About Us
Founded in Feb. 2022, 42Shops is an online e-commerce company based in Beijing, China. Our main products are licensed plush toys, games and anime peripherals. Since our inception, we have shipped packages to over 50 countries and regions worldwide and received over 400 positive reviews (4.9 out of 5) from consumers who have a track record of making purchases. :)
Our main product - plush toys
Initially, our products came from Changed game-related characters, such as Puro, Tiger Shark, etc. Changed's global audience loved the game but faced a challenging problem - purchasing plush toys from China's Taobao website was complicated. We contacted DragonSnow, the developer of Changed. Because we respect intellectual property and are familiar with cross-border payments and logistics, we got DragonSnow to license Changed-related plush toys.
After Changed, we partnered with minidoll to license popular anime series such as MDZS and TGCF, including Xie Lian and Hua Cheng plush toys. We categorize these products as Hot Series.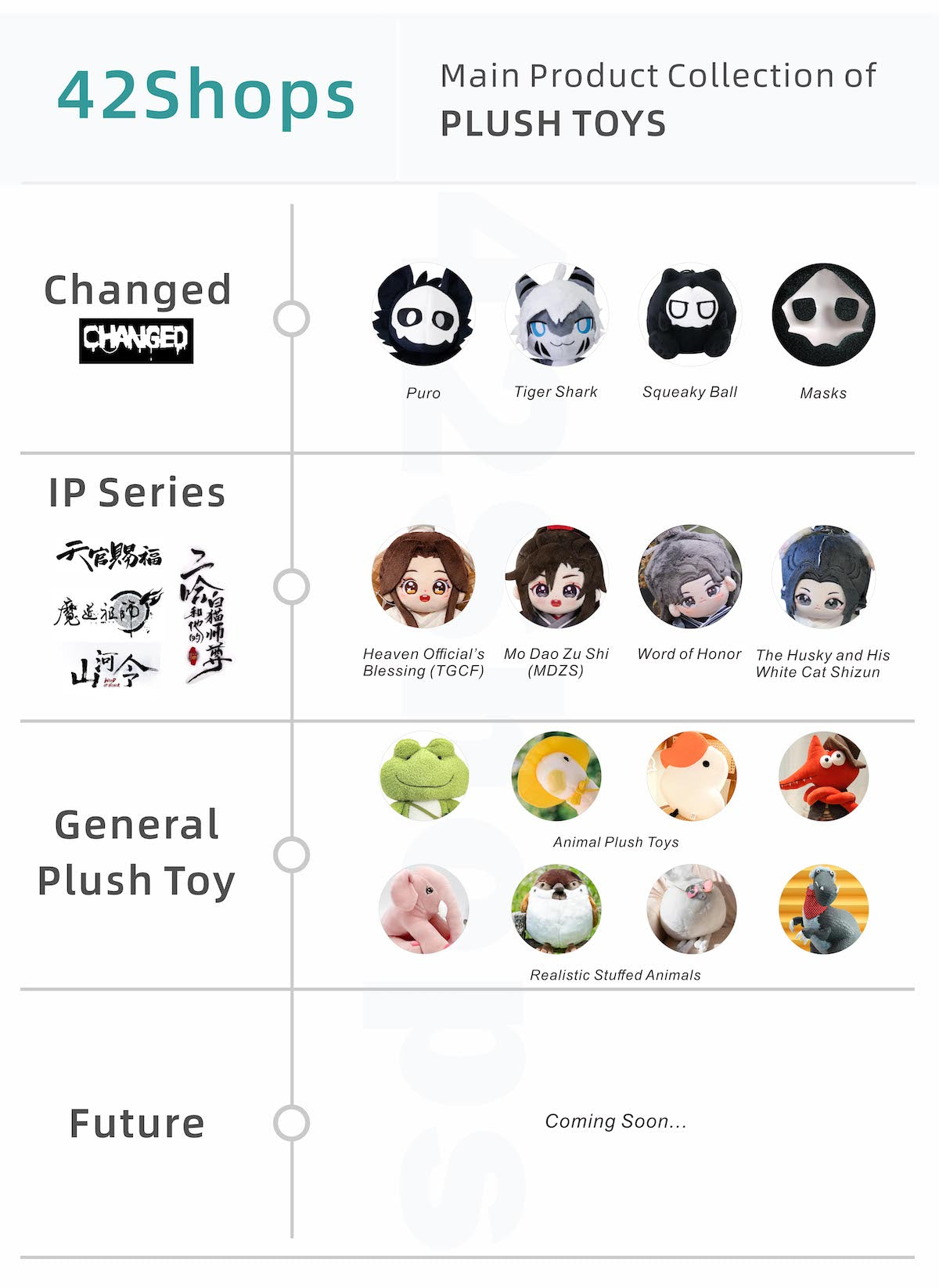 As our business expands, we are increasingly aware that plush toys can grow with people and bring them a sense of joy and security. So we continued to expand our sales beyond the Anime line to include general plush toys.
Why plush toys?
No child does not like plush toys. We often see a small child talking to a plush toy, reading it, and telling it a story. Children treat stuffed toys as good companions, take them with them when they go out, and sleep with their beloved stuffed toys to fall asleep. As we grow up, we face the pressure of school and work, and soft plush toys can always let us relax.
No matter what the place, the cultural background, or the age, we can not think of anything more popular than stuffed toys. Plush toys grow up with us, bringing us a sense of security and physical and mental pleasure. It puts us in a relaxed mood, and plush toys from games and anime can also be a source of spiritual sustenance. These are the reasons why we love plush toys.
Our Mission
We are committed to bringing China's original plush toys to the world and hope they bring happiness to consumers worldwide. :)
Our Team
Our founder, Emma, was inspired by her daughter's plush toys after a frustrating career break. At the same time, Emma noticed how difficult it was for Changed players outside of China to purchase plush toys, so she founded 42Shops. 
Emma

Emma is the founder of 42Shops. Emma defines our mission to bring joy to our customers and leads our team to deliver first class products and services to our customers.

James

James is responsible for improving the customer experience. James focuses on everything from payment to logistics, from website design to customer communication.

Dune

With over 10 years of cross-border shopping experience, Dune has helped solve countless problems for shoppers from China around the world.

Jack

Jack is responsible for sourcing. Jack has a great relationship with our China-based suppliers and is constantly developing new products for us.

Jerry

Jerry is responsible for warehouse management; Jerry ensures that the quality of our products meets our standards and that they are packed in strong, reliable boxes.

Monica

Monica is responsible for order management, customs declaration and parcel tracking. We ensure that consumers receive their packages as quickly as possible.
Welcome to the 42Shops warehouse
Warehouses and logistics are a very important part of online e-commerce. We have a 400 m2 (4,300 ft2) warehouse that is clean, tidy and runs very efficiently.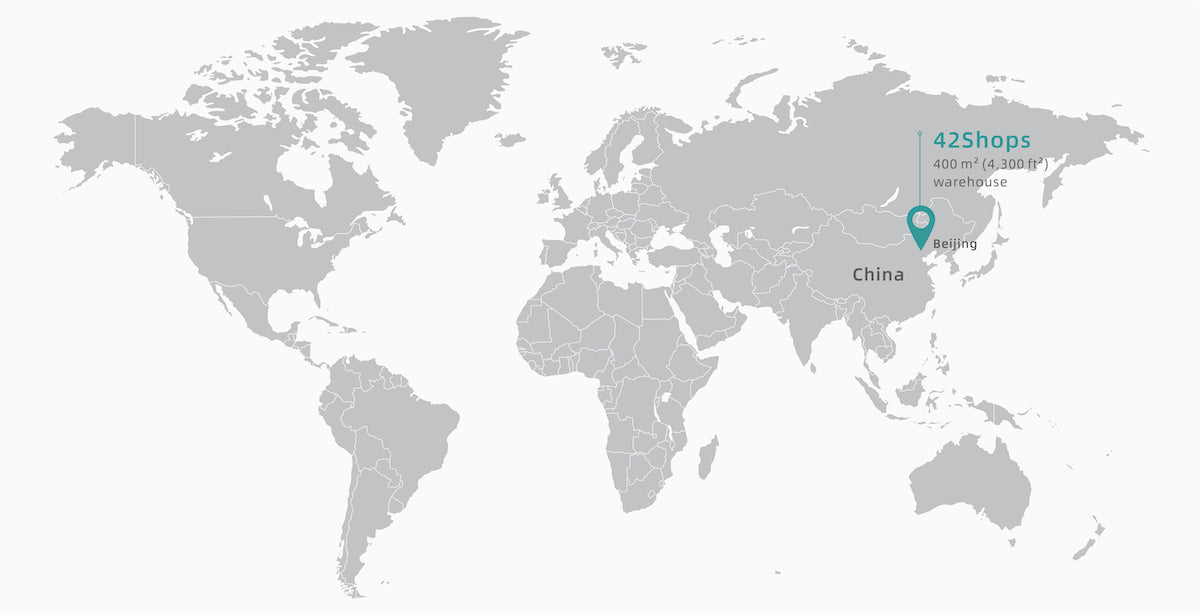 42Shops' warehouse is located in Beijing, China, just 40 km (25 miles) from PEK. Most of our packages are sent from this warehouse.

As you can see, our warehouse colleagues are carefully inspecting the products we purchase. We have to make sure that all products sent from our warehouse have very good quality, and if there are quality problems, we will contact our suppliers to reship them.

Although our store is mainly for small packages, we also have customers who purchase wholesale. So you can see that we have quite a few large boxes in our warehouse.
Learn more about 42Shops
You can learn more about our story through our blog. Check out what consumers are saying about us from our review page. You're also welcome to join our mailing list to receive product updates, coupons, and more. You can contact us anytime through Contact Us, and we look forward to hearing from you.
We wish you a happy day. :)
Company name:SHARLOMAY LTD
Company address:Agion Theodoron 6 Agios Athanasios, 4102, Limassol, Cyprus