We've learned that one of China's e-commerce giants, Pinduoduo, is coming to the US market in mid-September 2022. This will be an Amazon-like full-category shopping platform, and we estimate that Pinduoduo US will be priced 30%-50% lower than Amazon's within the first year or two.
Update:
TLTR: We will first analyze the background of Pinduoduo's rise in China, then explore its strategy in the US market, and finally give our own verdict: can Pinduoduo replicate in the US the story of its victory over Alibaba in China? For those who don't have the patience to read the whole article, we will give a conclusion first: it is complicated for Pinduoduo to rise in the US, with a high failure rate, but until it gives up or succeeds, US consumers can gain a considerable benefit.
Several distinguishing features of Pinduoduo are low price and a wide range of product categories covering all aspects of daily use. The current inflation in Europe and the United States has reached its highest position in decades. It is believed to be a boon for consumers if they can buy cheap and practical products on Pinduoduo.
Who is Pinduoduo?
Pinduoduo (PDD) was founded in 2015 when Alibaba was seen as an unbeatable e-commerce giant like Amazon in China. Yet after 6 years of growth, Pinduoduo has surpassed Alibaba in terms of annual domestic consumers in China. How did all this happen? How did this happen and how can we determine if Pinduoduo's rise in the US will be unstoppable?
Simply put, PDD is doing the right thing at the right time. Here are 4 areas we will analyze in detail.
Alibaba's e-commerce foundation in China
Alibaba got its start in the early days of B2B, launching Taobao in 2003 during the SARS epidemic in Beijing and Alipay in October of that year. In 2008, Taobao gradually transformed from a C2C platform to B2C with the launch of Taobao Mall. To promote Taobao Mall, Alibaba held the Double Eleven promotion in 2009, and since then, November 11 (11/11, Similar to the US Black Friday) has been the most celebrated shopping day for Chinese people. Taobao Mall was further upgraded to Tmall in 2012.
Taobao + Alipay is similar to eBay + PayPal
After more than 20 years, Alibaba has created an e-commerce empire in China that touches every aspect of life. Alibaba has cultivated an online shopping habit among consumers that will account for about 25% of online retail in China in 2021, compared to 14% of online shopping in the US in the same period.
Alibaba's Cainiao Logistics is the infrastructure of e-commerce in China
Alibaba has already established a comprehensive infrastructure in China, investing in or holding many private logistics companies to form Cainiao Logistics. With Cainiao Logistics, most consumers in China can receive packages from e-commerce platform sellers within 2-4 days.
The market Alibaba gave up
After the establishment of Tmall in 2012, Alibaba gradually began to abandon the so-called low-end market and advocate consumer upgrading instead. As a result, the market gap left by Alibaba's initiative was occupied by Pinduoduo.
In many ways, Pinduoduo is very much like a younger version of Alibaba. For example, because Alibaba advocates consumer upgrading, a lot of Alibaba's network traffic is tilted to Tmall, and the profit margins of Taobao sellers are greatly compressed - Taobao traffic costs are getting higher and higher, making it difficult for sellers to make a profit in Taobao. These Taobao sellers are hungry for cheap network traffic, and the emergence of PDD has given them new room to survive, with a large number of sellers flowing from Taobao to Pinduoduo.
Alibaba used to have a star business called Juhuasuan (聚划算), which is very similar to the group business that Pinduoduo started (similar to Groupon). The essence of the business is that when many people go to buy the same product, everyone gets a lower price. But Alibaba has so many lines of business that Juhuasuan is insignificant in the huge Alibaba empire. Finally, Alibaba relaunched its Juhuasuan business in 2019 until it was too late, when Pinduoduo had become an unbeatable enemy.
Pinduoduo leverages the power of Tencent Holdings and WeChat
WeChat is the soil for the rise of PDD
Pinduoduo has received investment from Alibaba's biggest competitor, Tencent Holdings (Tencent currently owns about 15% of PDD), and free traffic from Tencent's massive WeChat ecosystem. WeChat, like a combination of mainstream apps like Facebook + WhatsApp + Instagram + PayPal, has an unassailable position among Chinese consumers. More than 1 billion people in China use WeChat to communicate every day.
In 2015, China's 4G network grew exponentially, and most people in even the most remote rural areas have access to smartphones. Thanks to WeChat Pay, a simple, secure, and easy-to-use payment tool built into the super app, consumers can make online purchases through WeChat Pay anytime, anywhere. For every phone sold by a Chinese mobile manufacturers (A series of well-known Chinese mobile phone brands such as Huawei, OPPO, Vivo and Xiaomi also rose to prominence during this period), WeChat gained an additional user. According to Tencent's latest financial results in August 2022, WeChat has 1.3 billion active users.
WeChat Pay gives wings to PDD's takeoff
With WeChat's huge user base, nearly free social network traffic (WeChat accounted for roughly 40% of China's Internet traffic at the time), and the convenience of easy-to-use WeChat Pay, PDD has risen quickly on such fertile ground. Because of the tit-for-tat between Tencent and Alibaba, Taobao and Tmall had a very difficult time getting traffic from WeChat, which was a solid moat that allowed Pinduoduo to grow like crazy without any resistance.
In addition to PDD, Tencent also supports Jingdong (JD), a super shopping platform known as China's Amazon. Today, Alibaba, Jingdong, and Pinduoduo are a three-legged race in China's e-commerce market. The fierce competition among these three has also given consumers more choices. In particular, consumers can buy many cheap, high-quality products from Pinduoduo. The competition for capital ultimately offers consumers the most significant benefit.
Pinduoduo's unique strategy and strong execution
Pinduoduo started from China's sub-developed cities, taking over third and fourth-tier cities, counties, and even rural areas, and then reversing to take over provincial capitals with Beijing, Shanghai, and Shenzhen, the most developed regions in China. Pinduoduo heavily subsidized consumers, launching several campaigns of over RMB 10 billion to encourage consumers to buy thousands of dollars of Maotai wine and iPhone from Pinduoduo. From the most remote rural areas to the most developed first-tier cities, Pinduoduo's consumers are everywhere.
Pinduoduo's product form is also different from Taobao and Tmall. Before Pinduoduo, Taobao users used to search. Like Amazon and Google users, when shopping or getting information, consumers first react by entering keywords in the search box. Around 2013, Toutiao app (今日头条), which is owned by ByteDance, changed the habits of Chinese mobile Internet users. In 2016, the release of ByteDance's Douyin (抖音 almost like TikTok - you know how powerful it is) revolutionized how Chinese people access information.
PDD is very similar to TikTok. The system analyzes the user's browsing and spending history and intelligently recommends various products to the user without knowing what he wants. Consumers gradually transitioned from Taobao's search behavior to Pinduoduo's unlimited swiping. The former is a rational behavior, while the latter is addictive. Anyone who has used TikTok knows what it's like to be addicted.
PDD claims to be an amalgamation of Costco and Disney, meaning that consumers can enjoy the joy of shopping and sharing while enjoying cheap products. At first, many people saw Pinduoduo's vision as a joke, but it proved itself. We can see its character from Pinduoduo's own description on the App Store:

The above chart contains the 6 main features of PDD.
10 billion coupon (百亿补贴), which shows that Pinduoduo spends tens of billions of RMB to subsidize consumers;
9.9 CNY shopping (9 块 9 秒杀), which shows that you can buy a lot of goods such as electric toothbrushes, yogurt, chocolate, etc. for 9.90 CNY (about $1.50);
Vegetables (多多买菜), you can buy vegetables, fruits, and other foods from Pinduoduo;
Group buying (万人团), you can invite your friends to shop with you at Pinduoduo, so everyone can enjoy discounted prices;
Nightly deals (夜黑风高), you can place your order at night from 20:00-21:00 to enjoy more discounts;
Pingduoduo games (多多果园), you can even play games at Pinduoduo - it's crazy :)
10 billion Coupon are the primary means for Pinduoduo to gain users, and we are pretty sure Pinduoduo will also invest billions of dollars in subsidizing consumers in the US market.
What has Pinduoduo achieved?
At the beginning of Pinduoduo's rise, Alibaba belittled the rampant competitor. Alibaba's leader once said, "Pinduoduo is just educating the consumer base for Alibaba, and ultimately, the consumers still belong to Alibaba." However, Alibaba was wrong, as Pinduoduo won consumers' trust and kept them on its platform.
More than 400 million people use Pinduoduo every day (DAU)
More than 800 million people use Pinduoduo every month (MAU)
Pinduoduo's annual turnover is RMB 2.4 trillion (about $350 billion GMV)
By the end of 2020, Pinduoduo's market capitalization exceeded $200 billion
Alibaba sat back and watched the rise of PDD and did nothing, and now Alibaba can no longer eliminate Pinduoduo.
The players in the US e-commerce market
Currently, the US e-commerce market is fragmented. In 2021, the proportion of online shopping in the United States is only 14%, which shows that there is still much room for development. eMarketer expects US e-commerce to achieve a compound annual growth rate of 15% during 2020-2025, and the market size will reach $1.6 trillion in 2025.
Amazon has 41% of the market share
Shopify has 10% of the market share
Walmart 6.6%
eBay 4.2%
Apple - only sells its own products
Note that Shopify is a service provider, not an e-commerce platform. With Shopify, sellers and brands can offer consumers more personalized and differentiated services. 42Shops, for example, uses Shopify's services.
We can compare PDD with players of the same magnitude.
Pinduoduo's GMV is $350 billion in 2021
Why do we judge that PDD's US selling price is lower than Amazon's?
We estimate that products on the Pinduoduo platform are 30%-50% cheaper than their Amazon counterparts until Pinduoduo succeeds or fails across the board in the US market. We recommend that 42Shops consumers follow Pinduoduo's US market growth, which could lead to significant discount subsidies.
Pinduoduo is learning from SHEIN
SHEIN is a Chinese FMCG (fast-moving consumer goods) brand, similar to ZARA and H&M, that launches many new women's clothing daily. SHEIN abandoned its wedding dress business in 2012 and shifted to cross-border women's clothing.
Cheap price - the average price of products is $10 - $15
Fast update
Very high volume of new products
In 2021, SHEIN ranked #2 in the US market in downloads (#7 in 2020) with 32 million downloads, up 68% year-over-year. According to research firm Earnest Research, SHEIN's share of the US fast-marketing market is 28% in the first half of 2021.
SHEIN's products are shipped domestically from China to the US (and therefore do not have the high warehousing costs of US warehouses). They can be delivered to consumers in an average of 8-12 days. 2021 will see SHEIN achieve $20 billion in global sales, with the US and Europe accounting for about 25%.
After great success in the women's apparel category, SHEIN is expanding the class to include color cosmetics, pets, footwear, furniture items, and more.
Pinduoduo's suppliers
In contrast to PDD, which offers suppliers free access to the platform, 30% of Amazon sellers' sales revenue goes to pay for advertising, warehousing, and logistics. So we assume that at this point, the selling price on Pinduoduo's US platform will be 30% lower than Amazon's.
Since May 2022, nearly 80 supply chain employees have moved to Panyu city (番禺), Guangzhou province, where SHEIN rose to prominence. Suppliers only need to ship their products to Pinduoduo's designated warehouses in China without having to concern themselves with customs, international logistics, etc.
Pinduoduo's logistics
Logistics costs are high in the US, with each package costing about $12. USPS, UPS, FedEx, and Amazon Logistics account for 98% of the US market share.
PDD's investment in J&T Express (极兔物流) is going global. In March 2020, J&T Express entered China, and two years later, it became one of the most critical players in the Chinese market, where it once got 90% of its packages from Pinduoduo. We expect that Pinduoduo and J&T Express will continue to work together to enter the US market.
Pinduoduo's strongest rival - Amazon
Let's first look at the basics of Amazon.
Amazon has 41% of the US e-commerce market share
Half of US households pay Amazon $139 a year to become a Primer member and enjoy next-day delivery
In 2021, Amazon will send 8.4 billion packages in the US or about 23 million packages per day
4.8 billion of these packages are delivered to customers by Amazon Logistics or approximately 13.15 million packages per day
Amazon has more than 110 large distribution centers in the US, with next-day delivery in 98% of the country
Logistics costs account for 27% of the price of goods delivered by Amazon (compared to 6% for similar services in China)
We think Pinduoduo has a challenging future due to Amazon's overwhelming power and competition from similar platforms such as AliExpres and Wish.
Can Pinduoduo win a leadership position in the US marketplace?
Let's start by comparing PDD US with the competitors it is trying to learn from and catch up with, SHEIN and Amazon.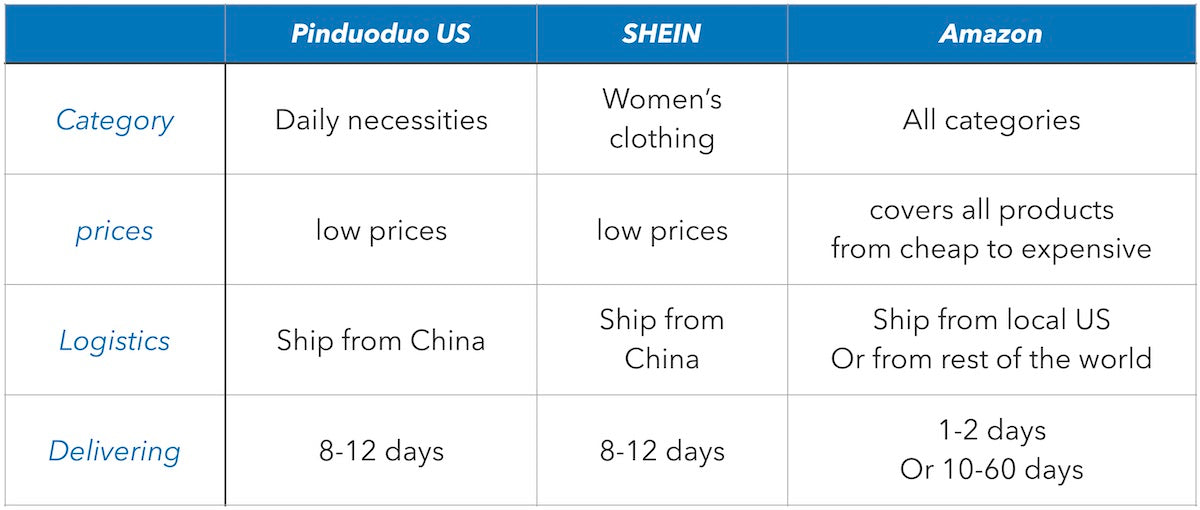 SHEIN has proven that even in a developed market like the US, the features of "low price, fast update, and large selection" are very popular with consumers. But the advantages of SHEIN's early development no longer exist: SHEIN started selling its products through social networks and KOLs in 2011 and was one of the first users of Pinterest in 2013, benefiting from the beginnings of Facebook marketing. Network traffic was still very cheap during SHEIN's rise to prominence, while currently, traffic costs in the US are already costly.
TikTok and its parent company, ByteDance, have massive traffic, yet ByteDance's cross-border shopping platform, Fanno, has encountered resistance in the European market.
The background of Pinduoduo's rise in China can't be replicated in the US either. Logistics costs in the US are much higher than in China, and there is no free network traffic source like Tencent's WeChat. One speculation is that Pinduoduo could partner with TikTok, with the former taking care of the supply chain and the latter providing traffic. We can't estimate whether Pinduoduo will be able to achieve market leadership in the US. But we believe that consumers will be the ultimate beneficiaries within 1-2 years of PDD's entry into the US market.
We believe that Pinduoduo will use a vast amount of money to encourage consumers to shop at Pinduoduo US. The size of this funding will probably be in the billions of dollars. Therefore, the early consumers of Pinduoduo US will definitely benefit from this. This is a benefit from the capital for everyone, not to be missed. :D
42Shops will not be in Pinduoduo US
Finally, 42Shops will not be on the PDD US platform. Because we mainly sell personalized plush toys, not daily necessities. However, we will continue to monitor the progress of Pinduoduo US so that our customers can buy cheap and good-quality Chinese products. Please join our mailing list if you'd like to get the latest information about Pinduoduo US.
Please share this article with your family and friends so that everyone can enjoy the low prices and high quality products together. As always, we wish you a happy and joyful day. :)