Introduction
Last June, we received a message from a Changed fan on Twitter who claimed that they received a counterfeit version of our product, a puro plush. The customer stated that the package was also damaged and the puro plush doll they received was completely different from the product photo they saw. Upon receiving this information, we immediately reached out to the fan and asked for their order number, packaging photos, and logistics tracking number for verification. After investigating, we discovered that the puro plush doll was not purchased from our store: 42shops. The customer later informed us that his brother had purchased the puro plush from a Amazon store. We found this store had stolen the product photos directly from our website. Many customers who purchased from this store have reviewed receiving fake products with poor quality and appearance that did not match the actual product photos.
Recently, we have received feedback from some customers that they have bought fake puro plushies on other websites or stores. We think it is time to help you identify genuine and pirated products, as we really don't want to see more consumers deceived by these bad merchants. Spent the money but did not get what they want in the end.
1. How to distinguish between official and counterfeit puro plush toy
We will show some photos for you and you can compare and judge the difference between legitimate and pirated versions very quickly.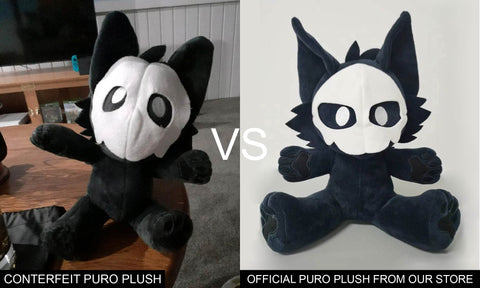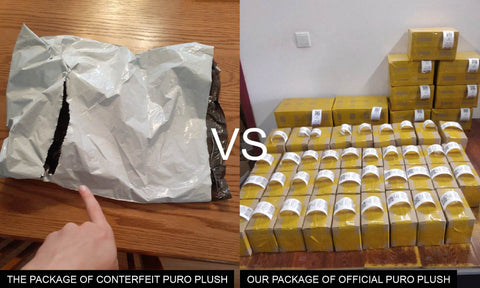 The counterfeit puro plush was packaged in shoddy plastic bags, and the actual puro plush dolls  were not the same as the pictures on their stores. From the pirated photos, we can see that the puro doll's workmanship is rough, the filling is not full, the material is not glossy, and it is not the original puro character image.
The official puro plush on 42shops is packed in high-quality cardboard boxes, and will be wrapped with several rounds of sealing tape, to avoid the plush in international transport, damage, or wet. Go to our Youtube to see 160 puro plushies are on the way to their new homes. Our actual products are also consistent with the product pictures in our store, and each order package will include a small postcard signed by the game Changed founder: DragonSnow, and we also prepare carefully selected a small gift for each customer.
The official puro plush is made of high-quality pearl velvet fabric, which is soft and glossy, and filled with high-quality PP cotton. The whole appearance design is true to the image of the game Changed. 
2. The Changed puro plush sold in 42shops are official and authorized by DragonSnow.
DragonSnow made it clear on Twitter that 42shops is the only global mailing and selling the puro plush dolls. You can check it on DragonSnow's Twitter account, the post date is Jun 16,2022. 
You can also check out our puro plush customer reviews here and see photos of their feedback on our store. Withover 100 positive customer reviews on the 42shops website, it's clear that the puro plush toys are a hit among fans of the "Changed" game. So why take the risk of purchasing a counterfeit product when you can get the real deal from a trusted source?


Conclusion
In the world of e-commerce, it's not uncommon for counterfeit products to pop up on popular platforms like Amazon.Unfortunately this also means that original and authorized products can be easily replicated and sold as knock-offs, causing confusion and frustration among consumers. This is exactly what happened with puro plush toys, a line of merchandise inspired by the popular video game "Changed".
So, what can you do to protect yourself from purchasing a fake puro plush toy? One of the best ways to avoid getting ripped off is to do a quick Google search before making a purchase. By comparing images of the authentic toy to the one being sold, you can easily spot any differences in design or material.

It's also recommended to avoid purchasing puro plush toys on Amazon and instead, opt for buying directly from the 42shops online store. Not only will you receive a genuine product but you'll also be supporting the creators and developers of the game.
Protect yourself and your investment by buying from 42Shops today!