Before you know it, Christmas will be here, and the big day will be before you can ask, "What do you want for Christmas?"
Just recently, a list of this year's hottest toys was made public. Because we are aware of how difficult it may be to select the perfect toy or gift for your favorite youngster, we have done the research for you. We pledge we won't put toys we find in the donation box. Additionally, we have gathered some recommendations that will reduce screen time for both parents and kids.
We've put together a list of hot toys for Christmas 2022 from 42Shops, a specialized merchant well-known for its gorgeous plush toys, to help you win this Christmas. The toys listed below are the top-selling and hottest toys for Christmas 2022 if you're looking for a last-minute gift option for the kids on your list.
Find the latest Christmas toys right here, chosen exclusively for you and your loved ones by 42Shops. A Good news is that you can use the promo code SAVE20 to receive the 20% discount we are presently providing on these products! Let's begin!
1. Christmas Penguin Plush Toy
What about penguins? A cute penguin plush toy is impossible to resist, especially during the chilly winter months! This penguin plush toy is constructed of short plush fabric with PP stuffing, making it soft, delicate, comfy, and skin-friendly. Bright colors may be used for a long time and won't quickly fade. These adorable Christmas penguin plush toys are perfect for adding festive flair to a party, bringing you joy, and cheering up the whole family at Christmas.
Price at time of publish: $22.99 USD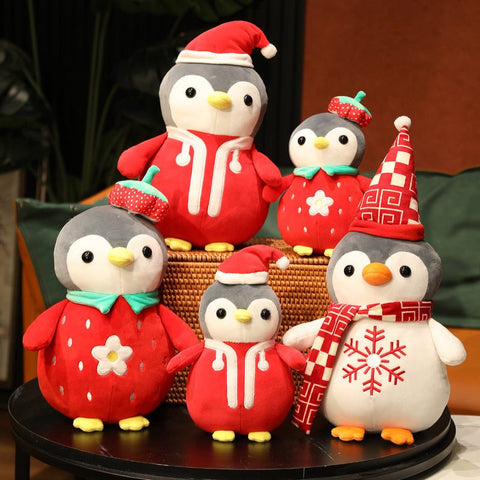 2. Crochet Father Christmas Eternal Flower KeyChain
Carrying a Christmas Santa around with you every day is a simple way to create your own holiday luck! You may carry this tiny keychain about at any time because it is made of woolen thread. With everlasting red blossoms, the crocheted Father Christmas comes to life, bringing a wonderful holiday mood to you and your loved ones.
Price at time of publish: $41.99 USD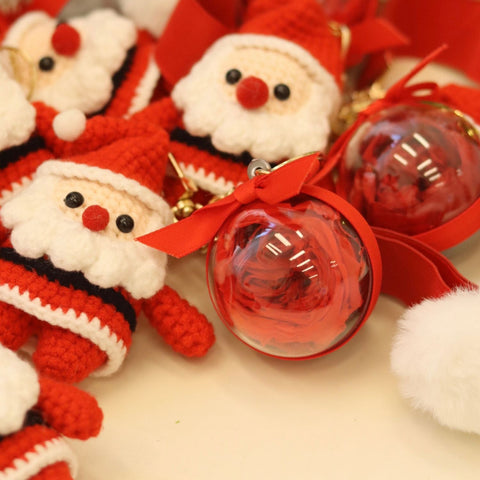 3. Santa Claus Reindeer Plush Toy Christmas Decorations

Pillows are gentle to the touch and not scared to be squeezed because they are made of really fine crystal and lined with pp cotton. Like you're always there for them, this adorable and cozy doll is ideal for family or friends. Simply astonish them!
Price at time of publish: $13.99 USD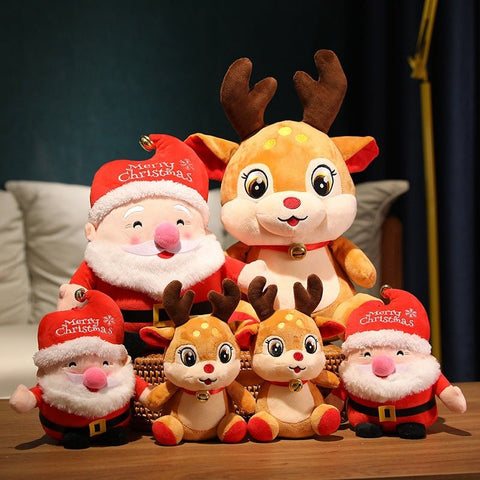 4.Cute Elf Plush Doll Christmas Tree Decoration
The adorable Christmas elf doll is made out of odorless, skin-friendly, high-quality fabrics that are gentle to the touch. outstanding artisan crafts done by hand. Wonderful for decorating a Christmas party at home. Christmas trees can be decorated with seasonal and holiday ornaments every year. You will have pleasant, sweet dreams thanks to the adorable elf.
Price at time of publish: $7.99 USD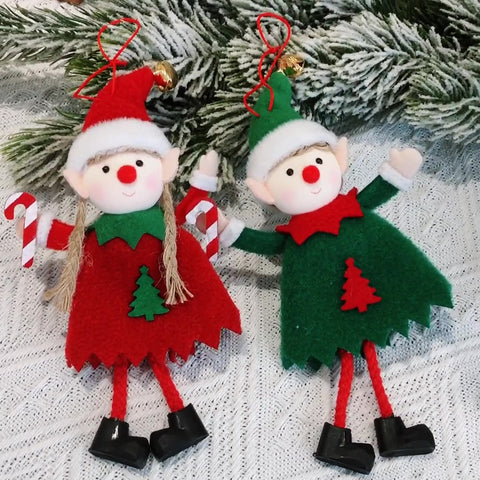 5. Christmas Huggable Snowman Plush Toy
Would make a wonderful addition to your Christmas decorations to create mood or a kind gift for someone you care about. You have a choice between the plush snowmen wearing a red hat, a green hat, or a yellow hat. It is a wonderful stocking stuffer that will make your child grin when they open it on Christmas morning!
Price at time of publish: $20.99 USD
6. Christmas Moose Stuffed Animal Toy
This moose plush animal toy for Christmas has wide, adorable eyes and a delicate bell. It is incredibly snuggly and playful. It was created just for the Christmas season. Red, yellow, green, brown, blue, and pink are the 5 vibrant colors that are offered. It comes in a variety of hues and can be used as a Christmas home decoration. Share this unadulterated joy with your loved ones throughout the Christmas season of 2022!
Price at time of publish: $19.99 USD
7. Cute Cartoon Christmas Tree Plush Pillow Toy
 Unlike the usual Christmas tree, this one is plush and cartoon-like! This adorable cartoon Christmas tree plush pillow toy is made of ultra soft short plush and crystal fleece on the exterior, which is smooth and delicate to the touch, and PP cotton inside, which is soft and elastic. For the most comfortable use, this toy's components are all meticulously and firmly stitched together. It comes in a variety of hues and can be used as a Christmas home decoration. It is strongly advised to use it as a backrest for individuals seated in a chair or sofa.
Price at time of publish: $22.99 USD
8. Red Christmas Santa Plushie Sleep Pillows
 An fantastic addition to both your own and your kids' bedrooms! It can be used as a decorative item or as pillows for sleeping. Choose the one you choose from the three huggable sizes of these plush red Santas; they are all nice to the touch. They will make your winter days feel warmer.
Price at time of publish: $25.99 USD
9. Lovely Cartoon Print Christmas Stocking
The first step in receiving gifts from Santa Claus is to put a Christmas stock on your tree. You can choose among cartoon versions of Santa Claus and snowmen, and when you view them, you can feel Christmas approaching! Additionally, you can fill these Christmas stockings with gifts, place them under the tree, and then deliver them to your friends.
Price at time of publish: $8.99 USD
10. Christmas Dancing Doll Pendant
These Christmas ornaments are adorable and appealing, come in a variety of styles, catch people's attention, and uplift you and your family's spirits. It might give your Christmas tree some color. This adorable Christmas charm can easily be hung anywhere you like, including your car's interior door handle.
Price at time of publish: $3.99 USD
11. Sequin Hat Faceless Rudolph Gnome Doll Christmas Ornament
The tomte gnome is great for fostering a sense of tradition. The gnome defends the house and shields inhabitants from bad luck, according to legend. It is regarded as good luck and brings the family luck. We wish you happiness and luck with these gnomes. Red sequins are scattered over its headgear and attire, which is adorable and full of Christmas spirit.
Price at time of publish: $12.99 USD
12. Cute Red Panda Baby Plush Toys
The diminutive red panda is a representation of beauty and goodness. Giving it as a Christmas gift to your friends, lovers, kids, and family would be a wise decision! They can be used as photo props to enhance the color of your pictures! It can also serve as your bedmate, allowing you to fall asleep with his hairy tail by your side. The little panda doll's posture is always one of begging for a hug. Anytime, everywhere, you can give him a hug!
Price at time of publish: $40.99 USD

13. Adorable Dinosaur Stuffed Animals Plush Toy
The top dinosaur plush presents for kids this holiday season! You can use the pink, green, or yellow dinosaur plush, ranging in size from little to enormous, as a decorative pillow for your bed, your back, your sofa, your car, etc. These stuffed dinosaurs make us feel secure and at ease because of their soft and cuddly nature. It is the warmest support and affection for your kids.
Price at time of publish: $8.99 USD
14. Pink Unicorn Plush Toys Body Pillows
The finest Christmas gift for girls is a pink unicorn plush! For your wife, girlfriend, or daughter, you can pick unicorn plush in tiny or enormous sizes. They will feel love and warmth from it! The pink cartoon unicorn stuffed animal has adorable wings, bright eyes, and intricate embroidered patterns.
Price at time of publish: $24.99 USD
15. White Space Bear Doll Plush Toy Astronaut Pillow
Have you ever considered what life may be like in space? Perhaps it will transport you to explore this uncharted world with this space bear! He is covered in gold, has a physique that can defend you, and a large head that is stuffed with countless facts. It's a fantastic gift for your intelligent children.
Price at time of publish: $14.99 USD
16. Penguin Bunny Bear Duck Plush Candy Bags
The interior of this snack push bag features a similar small plush; it's so adorable and you'll adore it for sure. Additionally, Japanese characters are printed on its outside. Additionally, there is a translucent area where you can see the tiny soft toys of cute animals. As a useful gift, you can also distribute them to your friends.
Price at time of publish: $33.99 USD
 17. Cute Fluffy Alpaca Plush Toy Plush Cushion
These adorable and lifelike plush llama dolls feature cartoon alpaca in their design. They have the power to instantly capture your heart, making you feel as though you have found the perfect, most tranquil, and cuddly buddy. There are several sizes available for you to select. These charming sheep plush doll toys come in three distinct colors and a range of sizes, making them appropriate for use in offices, ceremonies, and other settings as well as in dining rooms, living rooms, sofas, windows, beds, and other places.
Price at time of publish: $14.99 USD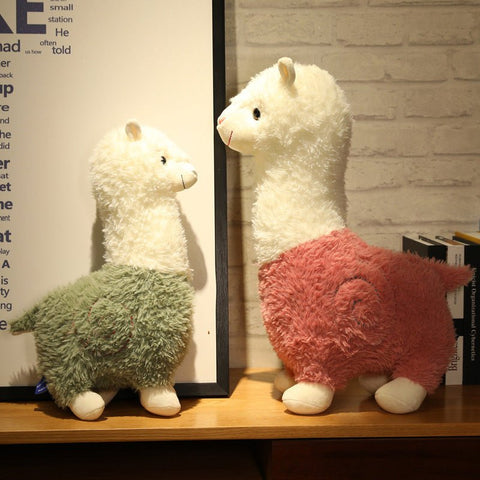 18. Flower Fairy Series Angel Plush Doll Rag Doll
These incredibly soft floral fairy plush toys are great for cuddling, playing, and decorating. They are also the ideal bedtime companions. The arrival of the angel will elevate and poeticize the entire Christmas season. If you offer girls dolls as Christmas presents, they will be delighted to see them all day long!
Price at time of publish: $25.99 USD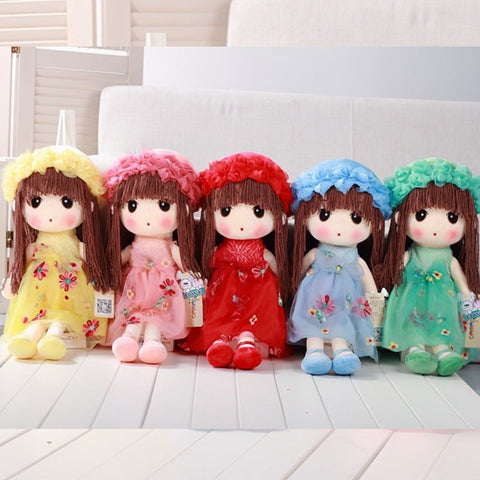 19. Brown Corgi Plush Toys
The Corgi plush toy is a soft pillow that may also be used as a high-quality plush toy for kids. You won't be dissatisfied. Owning the brown corgi stuffed animal is highly recommended! The puppy will be your most loyal guard, protecting you during the long dark nights to have a good dream.
Price at time of publish: $12.99 USD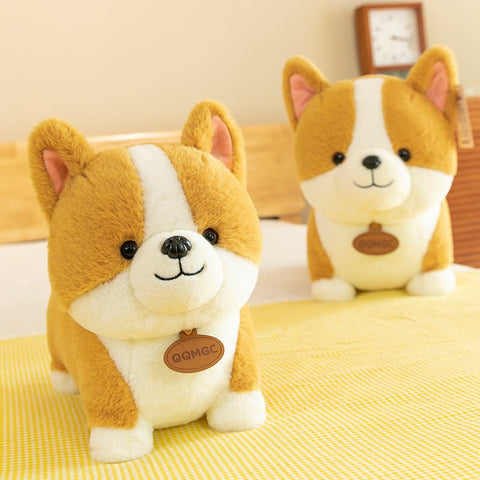 20. Stuffed Red Clothes Soft Teddy Bear Doll
Everyone enjoys cuddling with this realistic cotton teddy bear doll because of its vibrant appearance, endearing facial expressions, and fluffy touch. You can present this adorable bear to your kids, friends, or parents and let him warmly and sweetly follow those you love. The teddy bear will make you have a warmer and sweeter Christmas.
Price at time of publish: $52.99 USD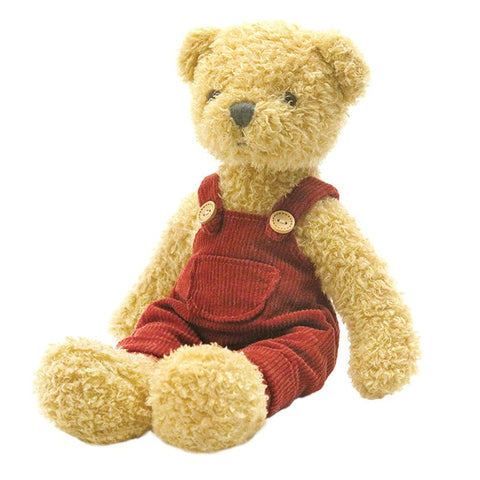 The holidays are rapidly approaching! We hope that this article will assist you in selecting the ideal Christmas present. More priceless than any present is the company of family and friends. To find a thoughtful gift to show your loved ones how much you value their time and attention, click 42Shops for more info about hot toys for Christmas 2022.