Children and adults alike find solace and connection in adorable animal plushies. Snuggling with a soft stuffed animal can be therapeutic, and they enable people to unwind and express a sense of belonging. The stress of busy days can be reduced by petting them, hugging them close, and stroking their soft fur.
See our top picks for the cutest plushies to give your girlfriend in 2022!
To choose an appropriate stuffed animal for your girlfriend, take into account the following factors.
Stuffed animals come in a variety of shapes, including those of puppies, bears, elephants, sea otters, and other similar animals. Pick one that your girlfriend will like. To pick an adorable plushie, take into account the colors, accessories, and details, like the eyes, nose, ears, and more.
To meet your demands, stuffed animals come in a variety of sizes, ranging from life-size to miniature. Depending on the desire of your partner and the available space, pick one. The greatest stuffed animals for cuddling are big ones.
Select cuddly, warm stuffed creatures made of soft, fuzzy materials. For the best comfort while cuddling, they should have a soft, smooth texture. Make sure the material is devoid of dangerous chemicals and safe for delicate skin.
Check to see if the stuffed animal can be washed. Pick one with zippers for simple cleaning and removal of the outer cover. To guarantee long-lasting use, review the cleaning instructions as well.
1. Duck plushies
Look no further if you're seeking for a huge plush duck to cuddle with! This duck-shaped plush toy has adorable yellow feet and a beak and is filled with PP cotton fiber. Each duck has a unique outfit, which is quite adorable. Can build cosplay, a charming duck can do intriguing DIY modeling. Bring her home so you can dress her up and be her stylist!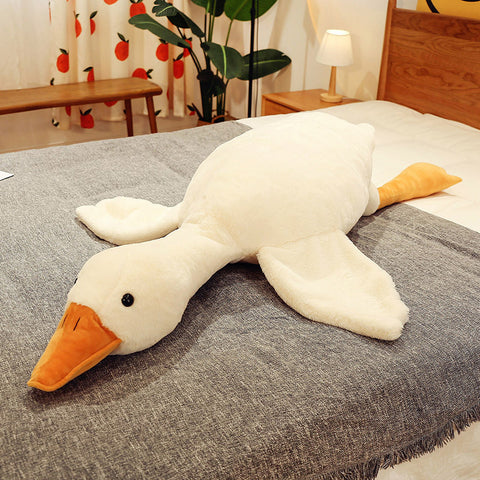 (2) Big White Duck Plush Body Pillow
Nothing beats a warm, comfortable bed and a soft pillow on a chilly winter night. But you can get a Big White Duck Plush Body Pillow right here! You may easily sleep with your arms and legs confined thanks to the large volume, which will make you feel comfortable. Additionally, it makes a nice accent to living spaces and bedrooms as decor.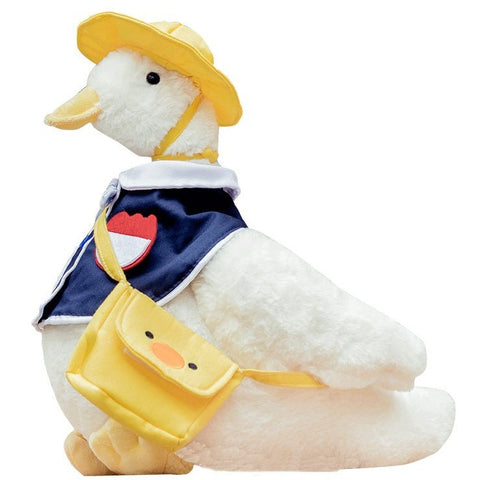 2. Bunny plushies
(1) Soft Bunny Bear Frog Plush Toys Stuffed Animals
Plush Toys Soft Bunny Bear Frog High-quality materials are used to create stuffed animals. They are long-lasting, stain-resistant, and simple to keep clean. You may find them as good as new by giving them a gentle machine wash in cool water.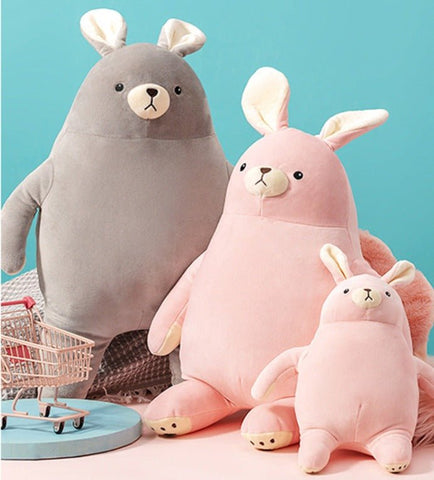 (2) Cuddly Bunny Plush Bedding Plush Toys
The bunny plush designs include one wearing a blue outfit and carrying a carrot, and another sporting blue slacks and a light blue striped vest. The other pair of rabbits are dressed in a pink floral dress and a blue overall for a more rural appearance.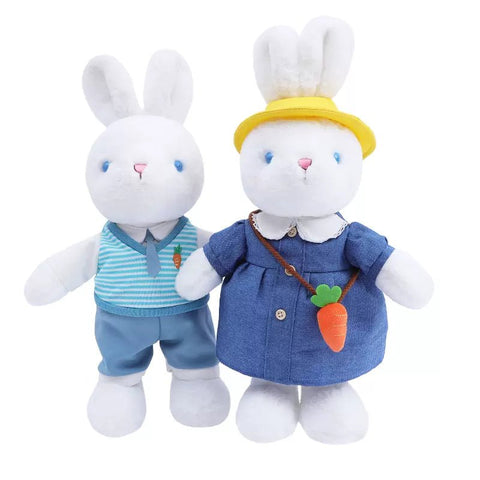 (3) Cute Funny Dark Reborn Rabbit Plush toy
Despite having several scars on her body, this unusual rabbit plush has a strong heart and never gives up. She will almost always move in the direction she wants to go! She can provide you with additional vitality!
Plush bunnies in the colors of pink, white, and black are offered. You may give it to your girlfriend as a present. As an ornament, your lady can use it as a couch pillow, back pillow, automobile pillow, etc.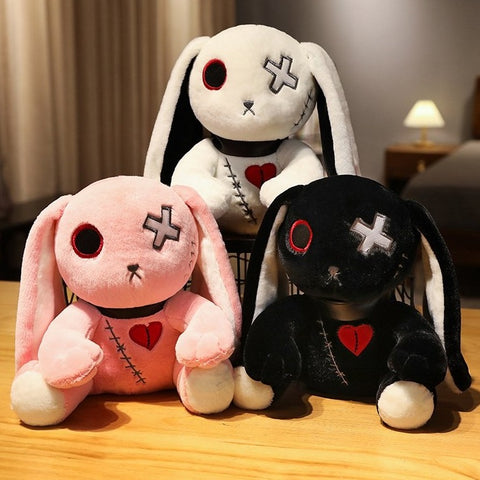 Realistic Baby Snow Leopard Stuffed Animals
Cats that dwell at high altitudes are called snow leopards. But this leopard is really warm and devoted; he is not cold. Give your girlfriends gifts that go well with them. She can allow him to calmly observe your diligent effort, every achievement, and harvest while he sits on her desk. You can travel with your girlfriend and this as well.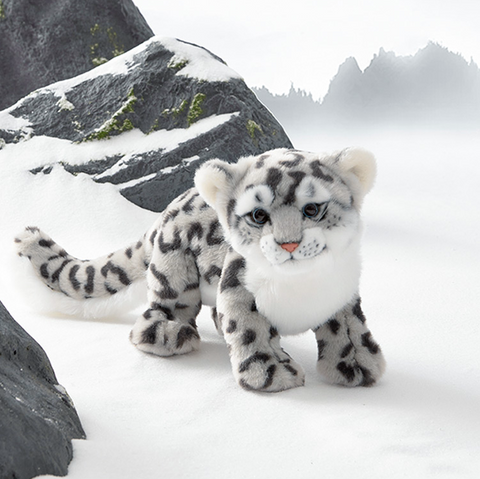 (2) Cute Chubby Stuffed Cat Plush Toy
Even when you're not there, cute kitties may keep your loved ones entertained. The best cat plush presents for your girlfriend are these. This fat cat waits for you at your house every day to play with you and your girlfriend. Additionally, you may use it as a decoration and as a pillow for your back, sofa, automobile, etc.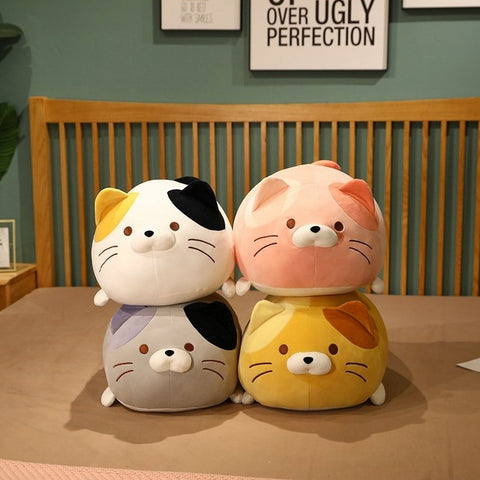 (3) Cute White Gray Cat Plush Toys Stuffed Animal
Perfect presents for Christmas or Valentine's Day! This adorable kitty plush is a great way to show your lover you care and cheer her up! The elastic ultra soft short plush, PP cotton filling, full filling, non-hazardous substance, sensitive hand feeling, and no deformation go into making this soft, adorable cat pillow plush toy.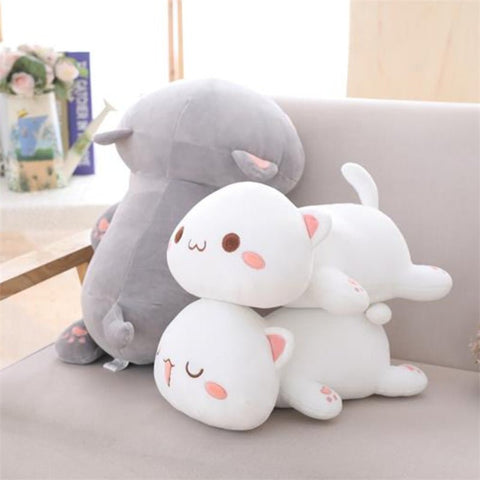 4. Bubble Tea Plushies
(1) Cute Boba Milk Tea Plush Multicolors
Do you desire daily use of bubble milk tea? These adorable boba plushies will now satisfy your demands. Pink strawberries and brown and green boba plushies are both available.
It feels cozy, fluffy, and smooth to the touch. The ideal stuffed animal present for your sweetheart! Choose any of our boba plushies for your family and friends from a variety of sizes and shapes. When they own these adorable and fluffy bubble plushies, you'll be able to tell by the smile on their faces!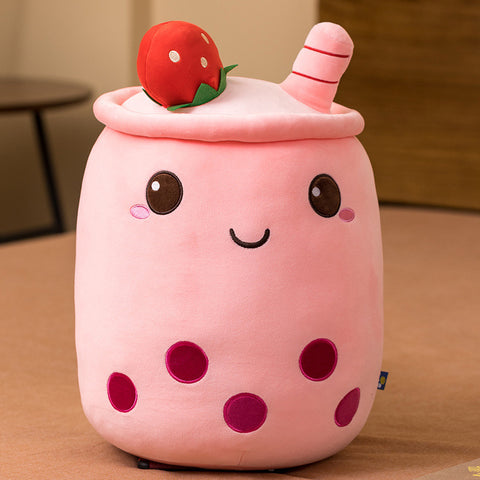 (2) Fruit Milk Tea Cup Plush Toy Cushions
The pink milk tea cup toy is grinning at you with huge eyes and pink strawberries. And the pillow toy of a yellow milk tea cup wrapped in pineapples chuckles heartily, his eyes narrowing into a slit. Additionally, the green one, who has a green apple on her torso, is really cute.
The bubble tea plushies have a big smile on their faces, which will undoubtedly put your loved ones in a good mood. It might be the ideal gift for Christmas, Valentine's Day, or Birthdays.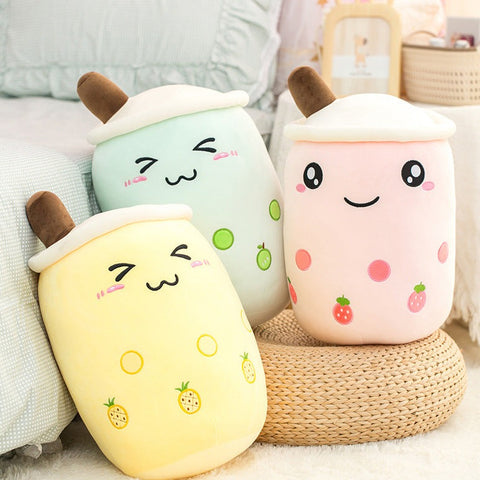 5. 
Avocado Plush Animal Plush Toy Pillow
This adorable animal plush toy pillow is shaped like an avocado and is a lovely shade of green. By releasing pressure on the back, spine, and hips, they can improve our ability to sleep. These lengthy, plush cushions will help us feel more secure and at ease.
They are more than just plush toys; they also care for and support the loved ones in your life.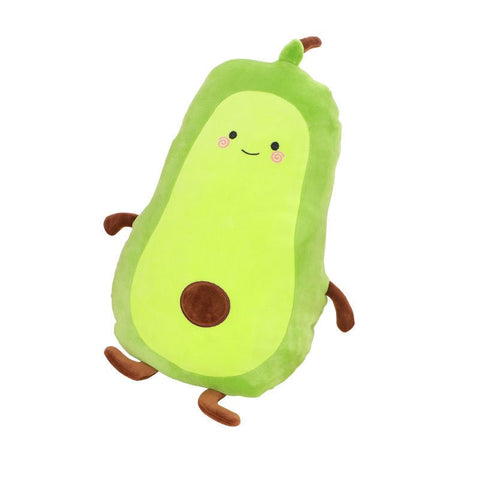 (2) Giant Avocado Plush Toys Pillows
This beautiful avocado plush toy is constructed of skin-friendly fabric and high-quality PP cotton filling for improved skin friendliness. It's stylish and cozy, like embracing a marshmallow.
There is a brand-new plush toy soft cotton doll on the avocado-shaped plush doll with adorable cartoon expressions and fluffy ears. This winter, cozy up on the couch or bed with this lovely plush avocado pillow for some sweetness and fun.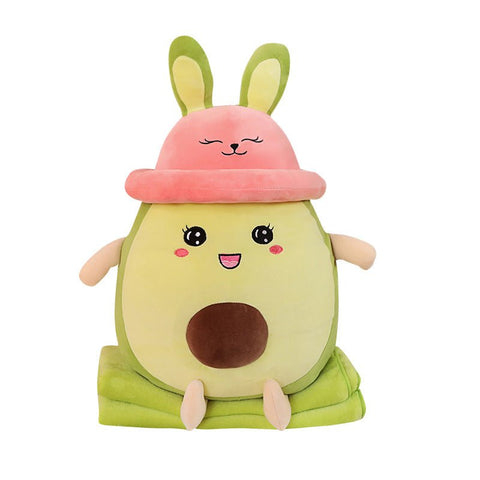 42Shops has handpicked these stuffed animals after considering the features and benefits of each and taking consumer feedback from multiple e-commerce websites. The items in this list are built of high-quality components and are incredibly plush and cuddly. Each of these cuddly animals is incredibly cute and will make your girlfriend grin widely.
The goal of 42Shops is to deliver original plush toys from China to consumers all around the world in the hopes that they will make them happy. Since we began, we have sent shipments to more than 50 different nations and areas of the world and have received over 100 positive ratings (4.86 out of 5) from customers who have previously made purchases from us.
Stuffed toys are unquestionably the most well-liked items, regardless of the location, cultural background, or age. With us as we develop, stuffed animals provide comfort and both physical and emotional pleasure. It calms us down, and soft toys from video games and anime can also provide spiritual gratification. We adore plush toys for these reasons.
Cute plush toys are popular among girlfriends because they offer solace and company, especially during times of loneliness or anxiety. A lot of girlfriends also value the thoughtfulness of receiving a cuddly plush animal as a present. A handful of adorable animal plushies may be the ideal present for your girlfriend if she enjoys cuddling or is an avid animal lover.
All you need are some adorable animal plushies if you're seeking for a present that will make your girl happy. These high-quality fuzzy companions are available in a variety of colors, styles, and breeds to exactly suit your girlfriend's tastes and personality. The best part is that they are constantly available for hugging!
Adorable plush toys are not only the ideal present for your lady, but they also make excellent cozy bedtime companions. The alternatives we've hand-selected for you here are incredibly fluffy, have a variety of unique designs, and are made from high-quality materials. You don't have to wait for your girl's birthday or Valentine's Day to show her how much you care. With one of these incredibly cuddly toys, you can show her your softer side and guarantee a smile on her face. Visit 42Shops if you're looking for the cute plushies for your girlfriend!